Okomu Oil Palm Company Plc Board Resolution
Friday 18 October, 2019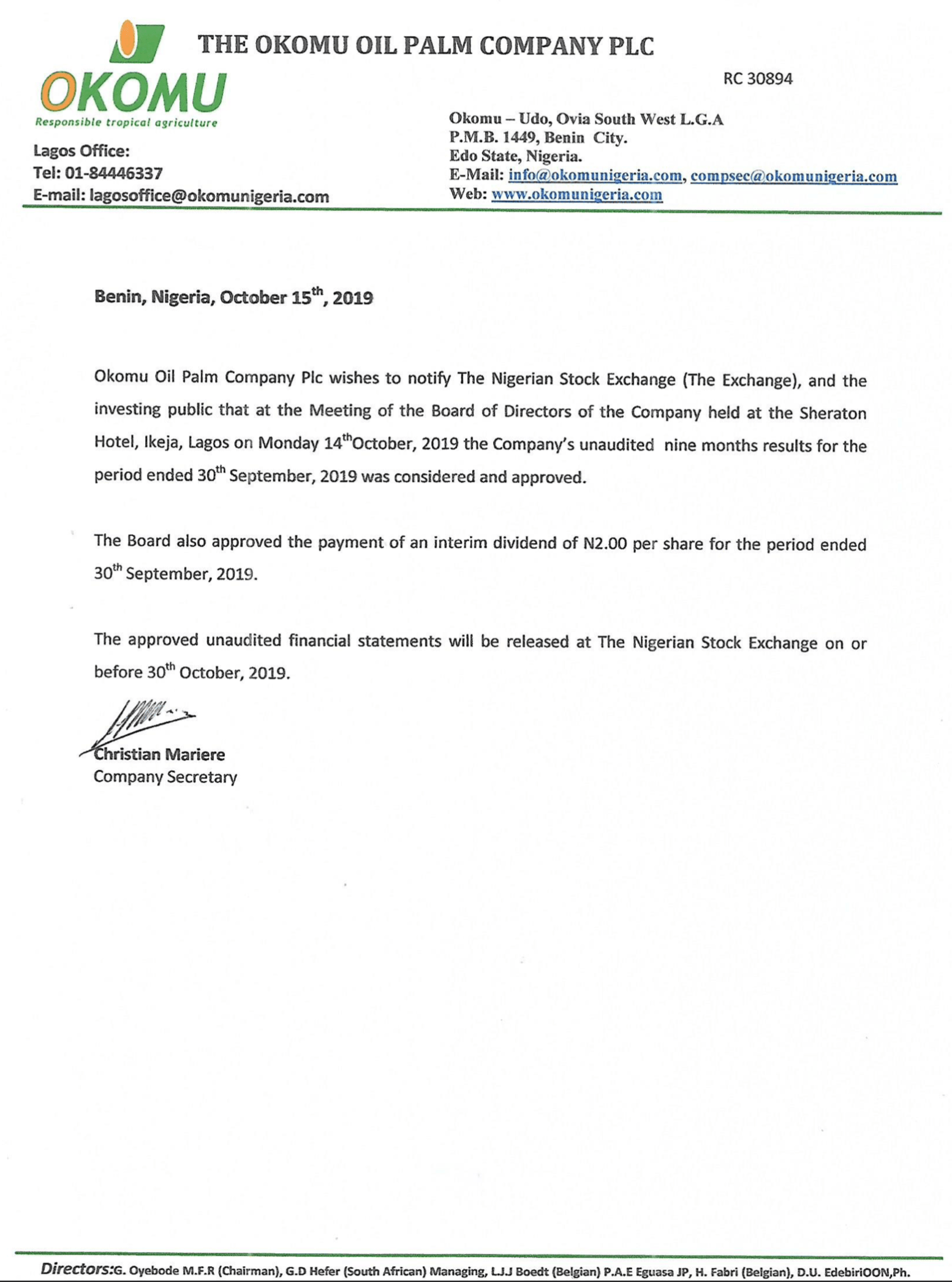 ---
Unclaimed Dividends Of Defunct Afribank Plc
Wednesday 11 September, 2019
The Securities and Exchange Commission ("The Commission") wishes to inform shareholders of the defunct Afribank Plc that unclaimed dividends by the bank are being held in trust on their behalf.
Investors that have unclaimed dividends are therefore advised to contact Carnation Registrars to process their dividends for payment.
The Commission has also directed Carnation Registrars and Meristem Trustees to ensure that all genuine claims of beneficiary shareholders be addressed forthwith.
Signed Management August 30, 2019
Email: [email protected]
Phone Number: 01-453-6020
Address: 2A Gbagada Expressway Anthony Lagos 
---
LASACO Assurance PLC Notice of Postponement of our 39th Annual General Meeting
Wednesday 11 September, 2019
Notice of Postponement of our 39th Annual General Meeting

This is to inform our Esteemed Shareholders and the general public that our 39th Annual General Meeting scheduled to hold on Thursday, 12th September,2019 at City Hall Lagos Island, Lagos has been postponed. The new details are as follows:
Date: Tuesday, 8th October, 2019
Venue: Oriental Hotel Victoria Island, Lagos 
Time:11am
The postponement has become necessary in order for the Company to meet the required delivery period of audited financials.
Ali inconveniences caused by this postponement, are highly regretted, 
Dated this 9th day of September, 201g
Gertrude Olutekunbi
Company Secretary/Legal Adviser
---
C&I Leasing Plc PROPOSED RIGHTS ISSUE
Wednesday 11 September, 2019
RE: PROPOSED RIGHTS ISSUE OF 539,003,333 ORDINARY SHARES OF 50 KOBO EACH AT N6.00 ON THE BASIS OF 4 NEW ORDINARY SHARES FOR EVERY 3 SHARE HELD IN THE COMPANY

C&I Leasing Plc is pleased to notify its esteemed Shareholders, Stakeholders, The Nigerian Stock Exchange ("The Exchange") and the general public, that the Company has filed an application with the Securities Exchange Commission (SEC) for approval to undergo a Rights Issue of Five Hundred and Thirty Nine Million, Three Thousand, Three Hundred and Thirty-Three (539,003,333) ordinary shares of Fifty Kobo (N0.50) each at Six Naira (N6.00) per share, on the basis of four (4) new ordinary shares for every three (3) ordinary shares held. The Qualification Date for the Rights Issue is Wednesday, 4 September 2019.
Subject to the approval of the SEC, the company shall hold a signing ceremony to execute all offer documents before opening the offer in line with the approval obtained.
Rights circular will be distributed to shareholders while application forms would also be made available on the website of the company's Registrars for ease of access.
Esteemed shareholders are advised to contact their stockbrokers and other financial advisers for more details of the offer.
For: C&I Leasing Plc
MBANUGO UDENZE & CO. 
Company Secretary
---
Flour Mills of Nigeria Plc - Announce a Final Dividend
Thursday 25 July, 2019